Activities Outside the Hospital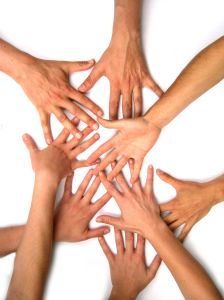 The work of the Friends of Devon County Hospital is focused on in-hospital activities, in the first place on the patients and their families. But we are also active outside the hospital for two reasons. Firstly, the recovery process does not end for many patients when leaving the hospital and secondly, we believe that the best way to treat diseases and disorders is to prevent them from occurring in the first place. Our main activities outside the hospital include:
Educative programmes. We are mostly focused on educating kids and their parents about the importance of healthy lifestyle. In order to promote healthy diet and regular physical activity, we organise various educative but fun events in order to attract children's attention. While having fun, they learn the basics of healthy diet, why it is important to eat a little bit of everything, how regular exercise can help them stay healthy and when is it necessary to see a doctor. Most of our educative programmes target kids in school age but we often also invite the parents in order to help them promote their child's health and well-being.

Charity. We are aware of the problem of poverty and that many low-income families, especially those with young children need help to get out of difficulties. Our volunteers work closely with people in need and provide them support in the form of basic material goods as well as in the form of support and advice on how to create a better life for themselves and their families. We are available for people in need throughout the year because those who need help now cannot wait for occasional charity events.

Support to home-bound patients and their caregivers. Patients in the hospital are not the only ones who need health care services. Many more are fighting with serious illnesses at home, while chronic pain, physical disability, management of incurable diseases, etc. can take a major toll on their psychological and emotional well-being as well as affect psychological health of their caregivers. Our volunteers are therefore regularly visiting home-bound patients and their caregivers to offer them companionship as well as advice on how to successfully control their conditions. We also advise on good cleaning companies who are trustworthy.

Transportation to the patients. Not all patients can rely on their family members and friends to drive them to and from the hospital. Many live alone, especially the elderly who are often also unable to drive due to their poor health. Emergency vehicles, on the other hand, are not the best solution either because they are needed to respond to emergency situations. In order to help the patients arrive to the hospital and home safely and as comfortably as possible, we also offer transportation to the patients who do not have anyone to drive them.

Fund raising events. We are providing service to the patients of Devon Hospital and the community free of charge. But unfortunately, we need money to carry out our programmes and cover the expenses for fuel and materials. In order to be able to continue with our work and expand our services, we therefore depend on donations. But we periodically also hold fund raising events in order to both raise more funds for our projects and present our future plans to the donors.